What is Website Care?
Managed Hosting is our streamlined, optimized hosting platform built for WordPress websites. These entire services that we offer are built around making your WordPress sites run faster and more securely. "Managed" for WordPress means we handle web hosting administrative tasks, such as installing WordPress, automated daily backups, WordPress core updates, server-level caching, and so much more.
What is Managed Hosting?
It's pretty simple. managed hosting is like shared hosting, but more of it. Most web hosting providers will push their customers onto VPS or dedicated servers, once their site outgrows shared hosting. business web hosting solves those problems.
With a managed hosting plan, you retain access to the tools you're familiar with, like cPanel, Softaculous, PHP Version Selector, etc.
The difference between shared hosting and managed hosting is that with managed hosting you are sharing a server with fewer clients, as little as 10 to 50 as opposed to 500 to 1000, giving you the upper hand.
If you have a highly visited website, and its performance is critical for your business, and if you do not have the budget for an expensive dedicated solution, then our business web hosting plan is right for you.
A little about us
I/ONerd is a web design company that specializes primarily in web hosting and WordPress development. I/ONerd  is custom-tailored to entrepreneurs and small businesses but has the power to scale up to the needs of enterprise-grade corporations. Our company focuses on professionalism, unbeatable reliability, and outstanding quality.
Don't let our small size and lack of longevity fool you. We are owned and operated by Stafford's Enterprises, a tech company that is located in Lexington, KY. They offer many products, services, and financial support to provide excellent care and stability.
We are a perfect fit to fulfill web hosting infrastructure needs, from personal projects to large-scale custom applications. I/ONerd Technologies has grown from an idea to a firm that boasts creativity, one-on-one customer support, and also offers other internet-related services, (logo design, SEO, etc.).
Our Focus
We like to focus on the customer. Our staff is well trained to help you. Unlike other companies. We like to ask our customers why they want a site. We will then select the best-suited package, that allows our customers to expand their website with ease, without limitation.
Network / Data-centers
We only use the best servers located in the best datacenters, in order to offer you the highest level of service possible. We use servers that are built using Dual Xeon Quad Core processors (8 cores) and a minimum of 12 gigabytes of ram.

FIND A PLAN THAT'S RIGHT FOR YOU
We offer multiple plans, so you can find the perfect plan for you.
Basic Hosting
Web Hosting Only.
2GB SSD Storage

Unlimited Premium Bandwidth

Unlimited Web Sites

30-Day Money Back Guarantee

cPanel and Softaculous

99.9% Uptime Guarantee

Free Daily Backups

Free Website Migration

Texas Data Center
WordPress Hosting
Web Hosting Only.
Web Hosting Optimized for WordPress

30 GB SSD disk space

1024 GB Bandwidth

1 Website/Domain

LiteSpeed Web Server + LSCache

Daily Offsite Backups

WordPress Pre-Installed

FREE Domain

FREE WordPress Migration

USA East Data Center.
Website Care
Website Maintenance Only
2 Hours of Support/Site Changes

WordPress Core Updates

WordPress Plugin & Theme Updates

24/7 Website Monitoring

Daily Offsite Backups

Spam and Post Revision Cleanup

Premium Speed Optimization with CDN

Fully Configured Caching

Database Optimization

Extra Work $65/ Hr
Website Care + hosting
Hosting & Website Care Included
Web Hosting & Website Care Included

Performance & Speed Optimization

24/7 Emergency Website Support

Malware Removal Services

Weekly Security Checks.

Monthly Performance Checks

Fully Configured Caching

Free Premium SSL Certificate

Dedicated Account Manager

Priority Support
cPanel + FEATURES
We use the ultra-powerful cPanel control panel along with amazing features. We're not your typical hosting company.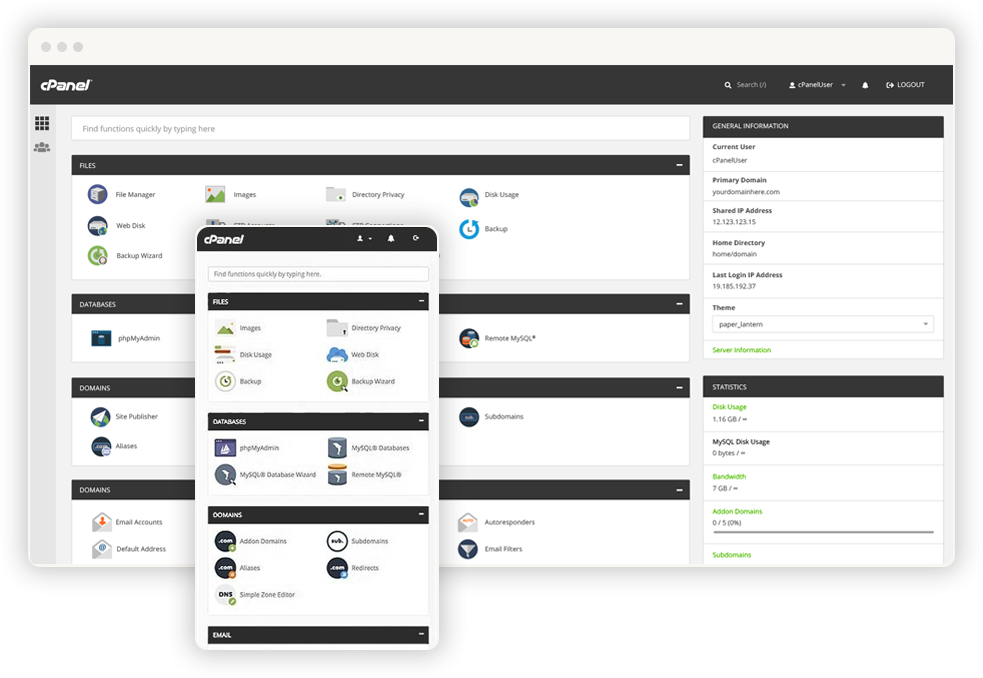 Less Users
A limited number of clients are hosted on each server. This way we are able to provide up to 4 times more server resources than our shared hosting.
24/7 Technical Support
We provide US based English speaking technical support via phone or ticket system.
Pure SSD Storage
We run all our Servers on SSDs, for blazing-fast performance. You won't believe the speed difference!
High Security
Our servers are secured with firewall, brute force protection, and real-time server monitoring.
Virus & Malware Recovery
We will be on call to help you fix any unforeseen issues that may arise with your website.
With another host?
If your old host uses cPanel, then just sit back and relax, as we take care of all of the work for you.
RAID Redundancy
We use redundant hard drives in all of our servers, to protect you from data loss.
Software Updates
We'll keep your software updated to the latest versions so your site will be fast, feature packed and free of malware.
Error Diagnosis
We will be on call to help you fix any unforeseen issues that may arise with your website.
Money Back Guarantee
All of our hosting plans carry an unconditional hassle-free 30 Day Money Back Guarantee.
Uptime Monitoring
We'll monitor your site 24/7 for downtime and server issues (proactive plans only).
Content Updates
We'll help you keep your site up to date with fresh content on a regular basis.
CloudLinux
CloudLinux is an operating system built specifically for web hosting. Whilst other operating systems can go offline due to a single account. CloudLinux stays stable by isolating the impact to the offending account. leaving all other websites as stable as before.
99.9% Guaranteed Uptime
We offer a 99.9% network and a hardware uptime guarantee, to all of our customers.
Daily Backups
Sleep well at night knowing that your website data is backed up twice daily on our off-site servers.
Over 300 Premium Apps
Using Softaculous, hundreds of applications are at your fingertips, most installable in less than 3 clicks!
Performance Monitoring
We'll monitor your website to make sure it is loading quickly.
Web Hosting & SSL
We provide free hosting, email and SSL certificates to all of our maintenance clients.
24/7 Technical Support
We use real technical support people. They have been in the tech business for 10+ years. Let them set up, configure, secure, and manage your account for you, so you can take care whats important to you. Your Business
We Love Our Customers
We use real technical support people. They have been in the tech business for 10+ years. Let them set up, configure, secure, and manage your account for you, so you can take care whats important to you. Your Business
Premium Bandwidth
We use multi-homed bandwidth from multiple carriers, to ensure maximum network speed and reliability. All of our networks are DDOS Protected for maximum security.
FREE Domain
Pay annually, and we'll throw in the domain name of your choice free for the first year.
Quality Hardware
We don't skimp on hardware. We only use the best servers located in the best datacenters, in order to offer you the highest level of service possible. We use servers that are built using Xeon Quad Core processors and a minimum of 12 gigabytes of ram. We place our servers in the OVHCloud data center in Vint Hill, Virginia
Developer Friendly
Our servers have what you need to run your web software, including PHP 7.4, Maria 10.3 , Ruby 2.8, Python, Perl, and more.
Frequently Asked Questions (FAQ)
What's included in this service?
Our maintenance plans focus on protecting your website's integrity and ensuring top-notch site performance at all times. We take care of your website's hosting, backups, security, WordPress, and plugin updates, as well as any website changes you request.
What type of website changes can I request?
Pretty much anything. Anytime you need to update a picture or written content, add a new page, or make small changes throughout your site, we'll be there to help. All you have to do is let our support team know what you need done or updated.
Why is it important that my site is always up to date?
Keeping your website CMS and plugins updated help protect against security threats, prevent your site from crashing and to ensure your website is always running smooth for all of your users.
Do you offer a money back guarantee?
Yes, we offer an unconditional 30 day money back guarantee. If you are not 100% satisfied for any reason, we will offer a full refund with no questions asked.
How long does it take to get my account set up?
Account setup for business web hosting accounts can take up to 24 hours, but usually less. We manually approve all accounts for security reasons. .
Do you support X application?
Our servers support PHP and MySQL (as well as Python and Perl), so you have access to hundreds of popular LAMP based web applications.

Can I change my plan at a later date?
Yes. You can upgrade or downgrade your plan at any time right from our client portal.
How will I manage my web site?
We use cPanel, the industry standard for web hosting management. Using cPanel you can manage your domains, files, e-mail addresses, databases, and much more.
Do you offer SSH access?
For security reasons  we Do Not Allow SSH Access to our servers.
What if I have multiple websites?
The fees mentioned above are per site. At this time we do not offer discounts on multiple websites.
What if an update breaks my site?
The site is immediately rolled-back to the backup state taken prior to performing the update. The methods for this vary in some cases. From there, you'll be notified of the issue. The majority of issues are addressed free of cost, however, custom plugins, issues introduced by users, or especially time-consuming issues may be billable. We will notify you before charging anything to your account.
Will you migrate my site if it is already being hosted by someone else?
In most cases we can transfer your website for free. Sometimes we will charge but depends on the hosting company, website size and server access, just in case something goes wrong during the process. For most basic small to mid-size websites, the migration process is minimal and we can include it at no charge, otherwise the estimate will be based on our normal rate of $65/hour. A complicated migration could take anywhere from 1-5 hours depending on the number of issues we will have to address.
What are my payment options?
Payment can be made using any major debit or credit card (Visa, Mastercard, American Express, Discover). and PayPal.  Payments will be automatically deducted on the first of the month.
Do you support multisite?
We currently do not support multi-site networks although we do hope to offer these services soon.